Today was my last class at Nya Studio. It has been a bittersweet kind of day. I'm not just moving out, Nya Studio itself is no more as of 1/31. Nya stood for Not Your Average Studio, it was a partnership between myself and Zabel from Zabel Belly Dance. Nya existed because where would you find Belly Dance and CPR Instruction in the same place… but not at the same time. We had an amazing 4 year partnership in Dover. And next week we'll go our separate ways.
But change happens. In this case it was the deteriorating health of our landlord. He was an awesome landlord, but he is older. His health is deteriorating and he needs care. Managing his properties and taking care of him is more than his family can really do. So they are selling the office condo we are renting. I understand why they need to do so, and taking care of family really does come first. I've spent months looking … and finally found a very nice space in Hampton.
Hampton is a little further away, but the new space is larger and will provide flexibility to add some new classes.
Today I taught my last class at Nya Studio. I spent time packing and cleaning after my class.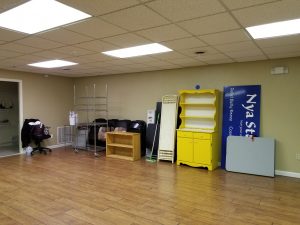 I'm sad for the end of Nya Studio, but excited for the possibilities that are ahead.