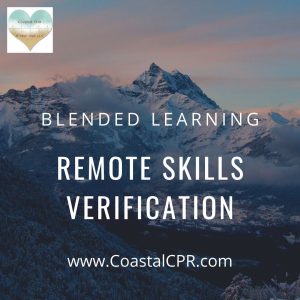 So you need to renew your certification, or you need to get certification. But you're not comfortable attending a group classroom course or skills session. How do you get your certification?
Blended Learning with Remote Skills Verification!
These are 2 and 3 part classes you can do remotely. The first part is an online class that you complete at home on your own schedule. The next parts are skills practice and testing that you can also do at home or at work. All the course equipment and supplies are delivered or mailed to you. The Remote Skills Verification occurs online and after successfully demonstrating the required skills and the course equipment and supplies are returned you'll receive your digital certification.
So you can earn your certification in these 7 simple steps:
Register for a class. Courses include Heartcode BLS, CPR AED, First Aid, First Aid CPR AED, and Child & Babysitter Safety. Look for the words "Remote Skills Session" in the course title to register for a remote skills class.
You'll receive your unique online course link within 24 hours. For AHA courses the link will be in your confirmation email, for ASHI courses I send them out manually so it can take up to a day. Please start your course! For some ASHI course options you'll have a link to schedule your remote skills verification in the email with your course link.
After you complete your online course you'll schedule your remote skills session. This can be scheduled by email, phone, or for some ASHI course options you'll use the scheduling link in your course link email.
I send you the supplies and equipment you'll need for the Skills Session. This could include manikins or First Aid supplies. If you're local I'll probably deliver, if you're further away or prefer to receive things by mail – I'll mail them. Full directions will be included with the equipment.
We meet online! We can use Zoom, Skype, Google Hangout, Discord, Facetime, ASHI's web platform, or other video conferencing tool that is convenient for both of us.
After you successfully complete your Remote Skills Verification you'll need to pack up the supplies and equipment I delivered or sent to you. Directions on how to do that will be provided. We'll set up a time for me to return to pick them up or I'll provide a return mailing label for the equipment and supplies I mailed to you.
Once I pick up the equipment or I receive confirmation that the supplies have been mailed back I'll issue your digital certification to you.
Questions you may have:
What type of equipment will I be using:
If I deliver equipment it will most likely be the same equipment I use in my classroom courses. For BLS and CPR AED you'll receive adult and child Laerdal QCPR manikins with assistive feedback. They're bluetooth. You'll download a free app – QCPR Learner – to use with your manikin. For infant CPR I use Prestan infant manikins which also have assistive feedback with visual indicators. Assistive feedback provides you with information on the quality of your chest compressions.  I'll also send pocket masks, one-way valve, and for BLS several different sizes of bag mask resuscitators. First Aid supplies include gloves, an epinephrine trainer, and gauze.
For mailed equipment I'll be sending our Laerdal CPR Anytime and Infant CPR Anytime inflatable manikins. They come in a storage bag that doubles as the manikin inflation device to keep everything clean.
How soon do I need to schedule my Remote Skills Verification?
Ideally you should schedule this within 30-60 days of registering for the course.